Omio
Since launching with Omio at the end of 2021 we've already helped to improve conversion and have many features planned to make it easier for customers to buy train tickets
Sector

Global online travel agency
Company size

300 employees, turnover not disclosed
Our services and solutions

Odyssey journey planning and fares engine API
Rail ticket retailing webTIS API
Bespoke features

Coming soon as part of our roadmap
The client
Omio - formerly GoEuro - was launched in 2012 in Berlin, and has raised almost $400m over several funding rounds, with the latest being in 2020. It's a multimodal online travel agency and journey planning service with its origins in Europe but, since 2019, a presence in North and South America too.
In 2019 Omio acquired both Rome2Rio and Busradar.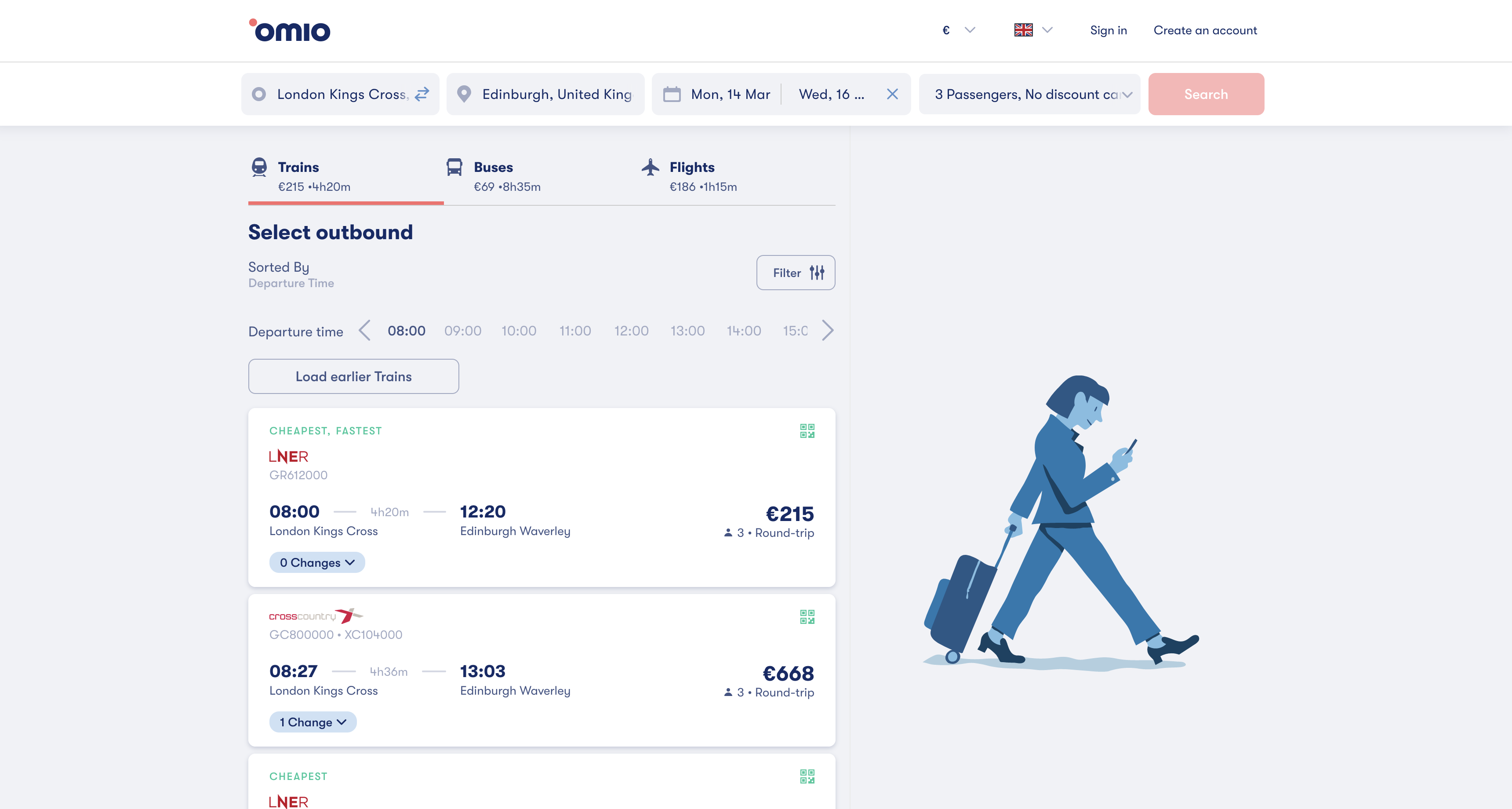 The challenge
Omio had already been selling GB rail tickets since 2013, but wanted to improve its product offering and conversion rates. Most especially, Omio wanted to partner with a forward-thinking and innovative online retailer, and to benefit from an established roadmap of new features, as well as a clear vision of where rail ticket retailing is heading. That's where we came in, as the industry experts with a vision for how rail ticket retailing can meet the challenges it faces and be a success.
Our solutions
We've supplied our ticket retailing system and Odyssey - our journey planning and fares engine - to Omio, powering thousands of searches (and purchases) every day. Omio's customer support agents also make use of our back office systems.
We are working together with Omio to introduce new features to make it easier to find the right fares, and to buy the right tickets. Watch this space!
Get in touch
Say hello
If you'd like to chat with us about what we do or how we can help you, just email us at hello@assertis.co.uk. We'll get straight back to you.
Technical help
If you have a technical question or would like to speak with one of our technical team, then just email technical@assertis.co.uk or visit our contact page